$248 One Person…$498 Unlimited Attendees
National Development Institute is committed to your success! One of the distinct advantages you enjoy as a nonprofit, ministry or church is your ability to receive financial funding from donors, corporations & foundations who already care about the people you serve. Your mission is important and there are millions of dollars available to you for your ministry. That's why you'll want to REGISTER NOW for FAITH & FUNDRAISING SUMMIT.
FAITH & FUNDRAISING will be the most important conference event you attend this year. This experience will challenge everything you believe about the raising of money and will make 5, 6 & 7 figure major gifts available to your ministry or church in the shortest time possible.
Who should attend?
Ministry Leaders, Pastors, Board Members, Development Officers, Trustees, Volunteers, Special Event Coordinators, Marketing Directors and PR Staff, who want to increase their knowledge and skills in the areas of nonprofit advancement, fundraising, and development.
Help major donors accomplish their personal goals by partnering with your ministry or church • Discover the Pauline Approach to the raising of money • Access the public net worth information of everyone within your service area or congregation • Learn how to secure the contact info of every millionaire in your community • Uncover the truth about feasibility studies don't work and why consultants still insist on selling them • Find out how to secure campaign cabinet members that raise major gifts • Discover the secret of the "Three-Part Ask" and how to use it with propriety and grace • Learn the five keys to securing major gifts from foundations & corporations • Begin securing five, six and seven figure gifts from high net worth donors • Memorize the thirteen steps to revitalizing a stalled campaign • Receive a workbook full of major gift strategies that work • Secure 10hrs of Adult Continuing Education Units for NANOE Credentials
Meet your keynote speakers: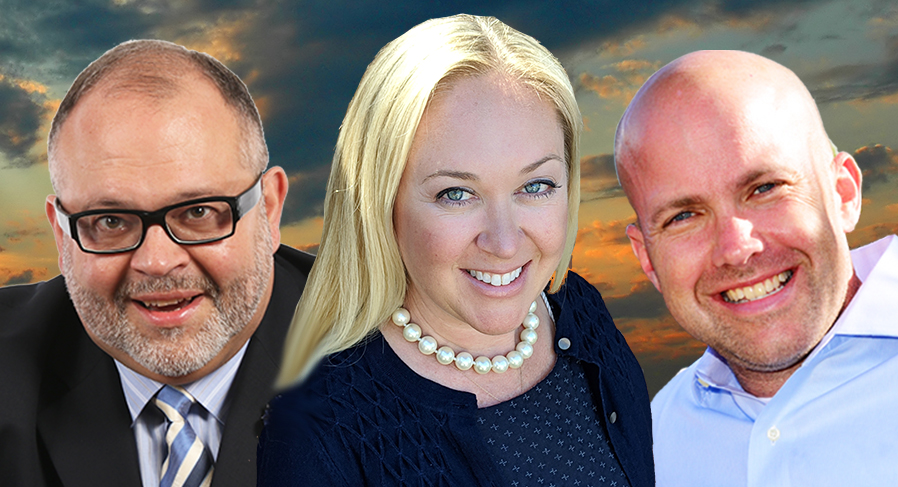 Jimmy LaRose - Global Cause Entrepreneur and Billion Dollar Fundraiser

Jimmy is recognized around the world as charity's great 21st Century Champion. His work as an entrepreneur, author, fundraiser, speaker and founder of National Development Institute (NDI) has raised hundreds of millions of dollars around the world for people in need. His best-selling book RE-IMAGINING PHILANTHROPY has been named by BookAuthority as one of the 100 Best Philanthropy Books of All Time.

Stefanie Stark - Development Systems International (DSI), President

Stefanie has worked with more than 500 nonprofit clients, including small, mid, and top tier organizations. Prison Fellowship, United Nations Foundation, The Bridgespan Group, VolunteerMatch, Boston Children's Museum, San Diego Museum of Art and hundreds more have relied on Stefanie to accomplish their fundraising goals.

Louis Fawcett - National Association of Nonprofit Organizations & Executives (NANOE), President

Louis has spent nearly three decades helping millionaire donors around the world accomplish thier personal goals. His fundraising success led to his installation as NANOE's first president where he now spends his life ensuring nonprofits, ministries and churches grow thier important missions. His ability to build trust with philanthropists has created thousands of collaborations that achieve global impact.
Meet your hosts and faculty:
Kermit Bridges - Southwestern Assemblies of God University, President
Tim Burkhart - Free Methodist Foundation, Chief Legacy Officer
Tatiana Baeva - Allies In Youth Development, Director of International Operations
Jackson Doggette - PAX Global, Senior Counselor
Chris Burgin - Allies In Youth Development, Founder & CEO
Karen Yarbrough - Allies In Youth Development, Director of Donor Relations
Bishop Redfern II - National Association of Nonprofit Organizations & Executives, Chairman
David Briggs - Wealth Builders, Founder
Girien Salazar - Southwestern Assemblies of God University, Director of Development
Pamela Ballard - PAX Global, Senior Counselor
Rick Bowles - Southwestern Assemblies of God University, Vice President for Advancement
Susan Jenkins - Allies In Youth Development, Donor Relations Specialist
Bring your entire team! Spend time with veterans who've raised millions and will inspire your leadership to build financial capacity in ways you've never dreamed possible. FAITH & FUNDRAISING is not nonprofit management 101! NDI's world renowned faculty will entertain, inspire and test your fundraising acumen (don't forget to bring as many board members as possible!). This conference will ensure you RE-IMAGINE PHILANTHROPY in a way that transforms both you and the ministry you serve.
AGENDA DAY ONE:
this day will challenge you
THE PAULINE APPROACH TO THE RAISING OF MONEY
IS FUNDRAISING BIBLICAL? IS IT RIGHT FOR YOUR CULTURE?
RE-IMAGINING PHILANTHROPY
CHALLENGING EVERYTHING YOU BELIEVE ABOUT THE RAISING OF MONEY
MAJOR GIFTS RAMP-UP FOR NONPROFITS, MINISTRIES & CHURCHES
THE FASTEST MOST COST EFFECTIVE WAY TO RAISE 5, 6 & 7 FIGURE GIFTS
NAVIGATING THE MAJOR GIFTS RAMP-UP MODEL
FIND A NEED AND MEET IT…MAKE A PROMISE & KEEP IT
TRUTH IN FUNDRAISING…CHALLENGING THE EXISTING ORDER
STOP BUYING PRODUCTS AND SERVICES THAT DON'T WORK
AGENDA DAY TWO:
this day will inspire you
CASE FOR SUPPORT & THE THREE PART ASK
YOUR CAUSE, PROGRAMS & PROJECTS EXPRESSED WITH PASSION
THE HIGH PERFORMANCE BOARD
BUILD A BOARD THE RIGHT WAY…STOP MAKING THEM FUNDRAISE
TOP TWENTY-ONE REASONS DONORS GIVE
A GROUP EXERCISE & COMPETITION
ORGANIZATIONAL DEVELOPMENT THAT WORKS & RAISES MONEY
YOUR LEADERSHIP, OPERATIONS, STAFF, CULTURE & TECHNOLOGY
THE THREE PART ASK…A ROLE PLAY
DOING IT OFTEN...DOING IT WELL
Tuition for a conference of this magnitude would normally run upwards of $800 per person. National Development Institute understands that budgets are tight and are making this two-day offering available for only $248 for one person or $498 for UNILIMITED REGISTRATIONS for every member of your team. Seating for this event is limited and will reach capacity shortly. PLEASE REGISTER TODAY!